Venturing (Co-ed 14-20 years old)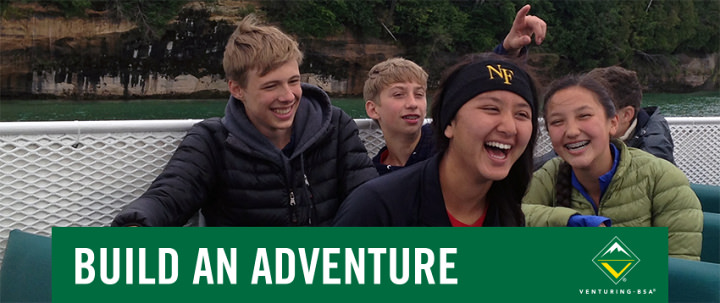 Venturing provides young men and women ages 14 to 20 years old with positive experiences to help them mature and develop into responsible and caring adults. Venturing is based on a unique and dynamic relationship between youth, adult leaders and mentors, and community organizations. The result is a program of exciting meaningful activities that helps youth pursue their special interests, grow, develop leadership skills, and become active citizens. Venturing crews can focus on a variety of career or hobby-related activities.
Take High-Adventure to The Next Level With Venturing
Venturing provides young men and women with high adventure outdoor activities, real-world leadership experiences, increasing responsibility, and a challenging personal development program.
What Will I Do in Venturing?
Venturing is only limited by the imagination of its members. A Venture crew is led by the young men and women who participate. Adult leaders are only there to assist, mentor, and guide young leaders in their adventures. Crew members may choose to sail the Caribbean, produce a play, climb a mountain, teach others to scuba dive, enjoy the great outdoors, or attend the Olympics. All these adventures are being done today by Venture crews across the country.
Venturers plan their own advancement and progress at their own pace. Choose from interests ranging from bouldering to biking to wilderness survival and countless other adventures, sports, arts and hobbies. Experts in these fields are ready to provide fun, real-world experiences. Youth are rewarded for each achievement which helps participants gain self-confidence. Setting their own goals helps Venturers grow in self-reliance.
How Often Do We Meet?
Venture crews meet weekly or every other week. Rock climbing, white water rafting, scuba diving, hiking, and other activities that crew members decide to participate in will occur throughout the year. Many crews will participate in one event or activity per month.
Who Can Join?
Young men and women, ages 13-20 and completed the eighth grade, can join Venturing.
What's the Cost?
The membership fee to join a Venture crew is $72 per year and is pro-rated. Other costs for new member fee, uniforms, activities, and camp are not included in the membership fee. Fundraising programs are available to help keep costs low.
How Does Venturing Include Parents and Guardians?
Scouting is a volunteer-led program. Each Crew is sponsored by a local community organization. Parents are welcome and encouraged to participate and get involved as a volunteer leader. Parents and the community organization select leaders. We'll work with the volunteer leaders to provide training and resources to deliver a great program. Crew leaders have the opportunity to work with young men and women and their families, improving the community throughout fun-filled activities that teach values of the Scout Oath and Law. By serving as a leader you can help make a positive difference in the kind of adults Venturers grow into.
How Do We Get Started?
Join Venturing any time! Click here to find a Venture crew in your area. To contact someone directly, please call (208) 376-4411.