Tapawingo District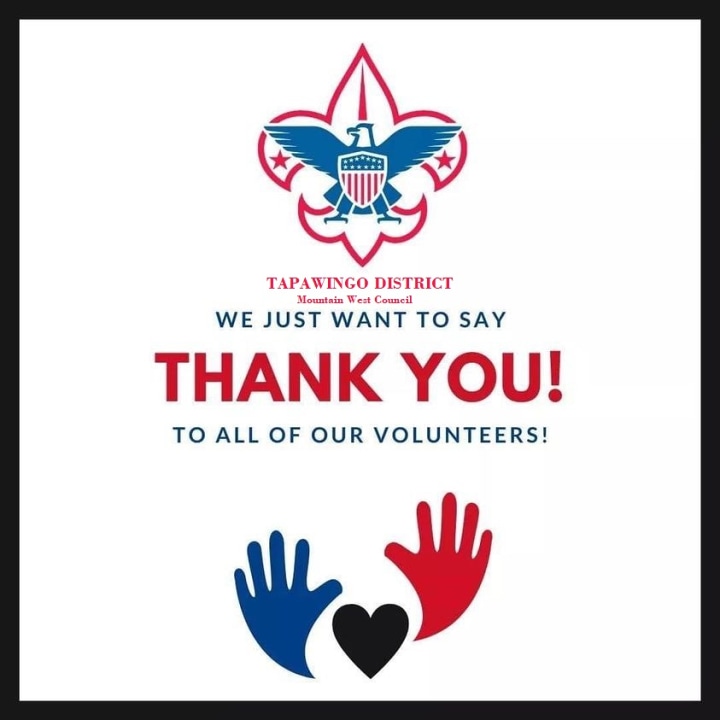 SERVING THE FOLLOWING COMMUNITIES:
The greater Boise area, Idaho City, Mountain Home, Glenns Ferry and Owyhee, Nevada, Meridian, Eagle, Star, Emmett and Garden Valley.
ALL DISTRICT MEETINGS ARE BEING HELD IN A VIRTUAL FORMAT AT THIS TIME, NOT IN PERSON. IF YOU WOULD LIKE A LINK OR INFORMATION ABOUT THE DISTRICT OPPERATING COMMITTEE MEETING OR ROUND TABLE PLEASE EMAIL US.
Send Email to the Tapawingo District
District Opperating Committee is held at 7:00pm on the 1st Thursday of each month on Zoom.
Round Table is held at 7:00pm on the 2nd Thursday of each month on Zoom.
CLICK HERE to view the 2020/2021 Tapawingo District Eagle Project Approval Schedule
Tapawingo District Recognition Evening
Thursday, June 10, 2021 at 7:00pm
Covenant Presbyterian Church - 4848 N Five Mile Rd, Boise, ID 83713
Map to Covenant Presbyterian Church
Register to attend the Tapawingo District Recognition Event
Mark your calendars now because the Tapawingo District has some of the best scouting volunteers around and we want to recognize them for their dedication and exemplary service!
Join us on Thursday, June 10, 2021 at 7:00 pm for a great evining and great fellowship to recognize our volunteers for all they do for our Scouts.
Cost: This year's event will be free.
We are anticipating Food Trucks will be available.