Mountain West Council Recognition Event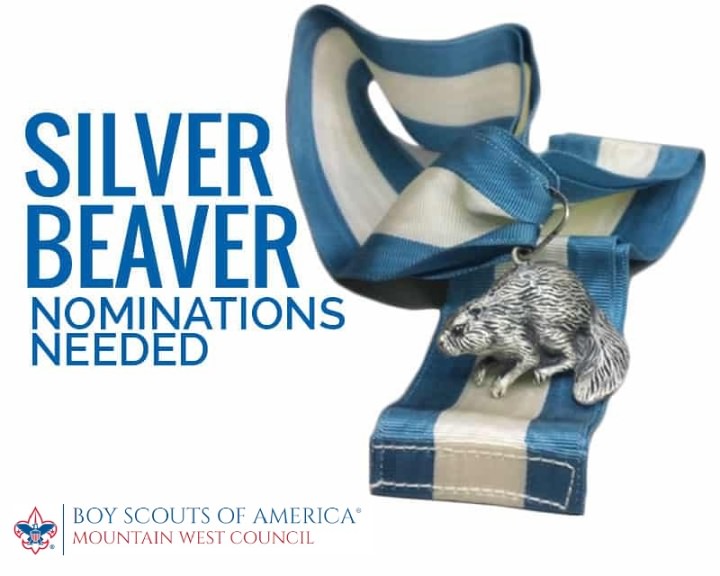 Date/Time:
Mar 19, 2022 7:00 pm
Location:
Virtual - On Zoom
zoom link
Boise, ID 83709

SILVER BEAVER AND HALL OF FAME AWARD NOMINATIONS MUST BE SUBMITTED BY JANUARY 15, 2022.
NOMINATIONS RECEIVED AFTER JANUARY 15, 2022 WILL NOT BE CONSIDERED FOR 2022 NOMINATION.
---
We all know Scouters that are worthy of recognition for all they have done and for all that they plan to do.
Please nominate those that are worthy and eligable for:
Silver Beaver
Anyone may nominate any deserving registered Scouter to the council recognition committee, which selects recipients for the following year.
The Silver Beaver Award was introduced in 1931 and is a council-level distinguished service award of the Boy Scouts of America. Recipients of this award are registered Scouters who have made an impact on the lives of youth through service given to the council.
The Silver Beaver Award is bestowed upon only those persons who have given continued, unselfish, and effective service to the community, usually through the program of the Boy Scouts of America, but not limited to Scouting.
CLICK FOR A SILVER BEAVER NOMINATION FORM
Hall of Fame
THE AWARDS PURPOSE
To recognize Silver Beaver recipients who continue their service to Scouting and youth.
ELIGIBILITY REQUIREMENTS
1. Be currently registered in Scouting.
2. Have received the Silver Beaver Award in any Council 10 or more years ago.
3. Have continued to give active, noteworthy service to the scouting programs and activities of the Mountain West Council
4. Council for a period of at least 10 years.
CLICK FOR A HALL OF FAME NOMINATION FORM
District Award of Merit
The District Award of Merit is a council award presented by districts in the same manner that the Silver Beaver is a national award presented by councils.
The award is available to Scouters who render service of an outstanding nature at the district level.
The award is made available annually on the basis of 1 for each 25 traditional units or fraction thereof. The district need not present all the awards to which it is entitled each year.
It is not appropriate to nominate a Scouter who has already received this award.
A professional Scouter or other council employee may not receive this award based on employment service. However, a professional Scouter or employee who also serves as a volunteer Scouter may be eligible, based on volunteer service
REQUIREMENTS
1. A nominee must be a registered Scouter.
2. A nominee must have rendered noteworthy service to youth in Scouting, outside Scouting, or both. Note: The nature and value of "noteworthy service to youth" may consist of a single plan or decisions that contributed vitally to the lives of large numbers of youth or it may have been given to a small group over an extended period of time.
3. Consideration must be given to the nominee's Scouting position and the corresponding opportunity to render outstanding service beyond the expectations of that Scouting position.
4. The nominee's attitude toward and cooperation with the district and/or council is to be taken into consideration.
5. Nominations cannot be considered for posthumous awards.
CLICK FOR A DISTRICT AWARD OF MERIT NOMINATION FORM
Details about the recognition event will be available soon!