I'd Rather Be at Camp Wilson Challenge - 2021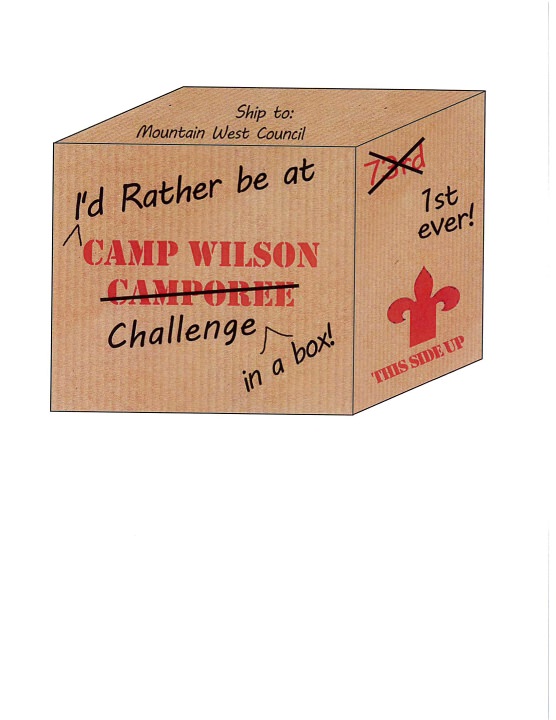 Date/Time:
May 4, 2021 8:00 am to May 31, 2021 12:00 am
Location:
Varies by Camp Date
8901 W Franklin Rd
Boise, ID 83709
Location Phone: 2083764411

With the fate of large gatherings still at question, and the health of all of our Scouts and their families in mind, the regular Camp Wilson Camporee for 2021 has, regrettably, been cancelled…but know that planning is well underway for 2022.
In the meantime, some of the Camp Wilson Committee have decided to come together to develop a series of challenges similar to what you might face, but designed in such a way that you will be able to complete them as a Troop on your own.
Think of it as a personal challenge to each of our local Troops…a chance to "show your stuff" as if you were at Camp Wilson itself, and an opportunity to train the new Scouts who have come into your troop in the last two years in what to expect so that you can approach 2022 with confidence!
Not so certain of your skills? The back of each challenge page is a "teaching" version. Use it, in lieu of a competitive event, as an opportunity to practice the skills in question. We are also inviting any Webelos dens in the area to do the Teaching version of each challenge, so that they'll know what they're in for next year as Scouts.
The format is simple. Plan a troop campout any single weekend of May. Participate in as many or as few of the challenges on the following pages, and send us a picture or a video showing your patrol(s) taking part in each challenge. Pictures need to be submitted to MountainWestCamporee@gmail.com no later than June 1 st to be included in the final presentation. If you would like to purchase patches for the I'd Rather Be at Camp Wilson 2021 event. They need to be ordered by Friday-June 4, 2021. They will be $2 each.
You can also register at the Mountain West Council website to receive a I'd Rather Be at Camp Wilson 2021 patch for each member of your unit that is taking part. We'll put an order together as soon as we have enough people registering, and will deliver them to the address on the form just as soon as they come in.
Questions? Contact Bob Cooper.
Place your Patch Order for the I'd Rather be at Camp Wilson Challenge