Camp Morrison Home Page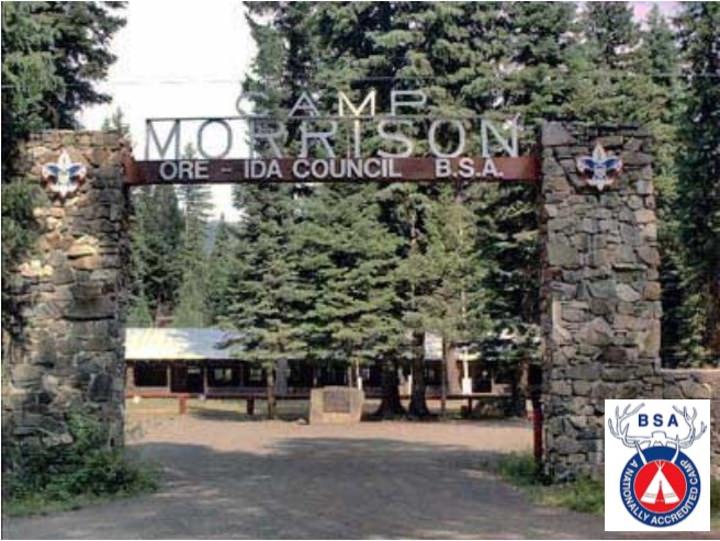 Camp Morrison
McCall, Idaho
Mountain West Council, BSA
UPDATE *** SUMMER CAMPS OF THE MOUNTAIN WEST COUNCIL
Due to COVID-19, we are disappointed to inform you of the 2020 suspension of Camp Morrison, Camp Bradley, the Salmon River High Adventure Base, Webelos Woods, Cub Resident Camp, Day Camps and other activities and programs scheduled for units that are scheduled on camp properties of the Mountain West Council. This unanimous decision was made on May 20 by our Council's Executive Committee after a very through discussion.
We are actively reviewing Idaho's 4 Step Program to systematically re-open the state that was announced by Governor Brad Little on April 23.
Adjustments, if needed, well be announced soon.
---
CLICK HERE FOR A CAMP MERIT BADGE CLASS SCHEDULE
CLICK HERE FOR A CAMP MERIT BADGE WORKSHEET
LEARN HOW TO USE TENTAROO TO REGISTER FOR CAMP-
Watch the Getting Started in Tentaroo video for guidance on setting up an account, logging in, and navigating the Tentaroo system.
Helpful Time Stamps:
Week 2 Schedule
Week 3 Schedule
Camp Location
The Mountain West Council, Boy Scouts of America invites you to visit Camp Morrison, a premiere camp in the Idaho Central Rocky Mountains. Camp Morrison is located adjacent to the beautiful Payette Lake in the Payette National Forest just 100 miles north of Boise, Idaho and three miles east of McCall, Idaho.
A full program of Waterfront activities and merit badges are available on the shores of the beautiful Payette Lake. Activities include early morning swimming and Scouts can take full advantage of the beautiful waters of Payette Lake by earning merit badges in swimming and lifesaving.
The nature trail connecting the waterfront activities to the main camp site of Camp Morrison winds through the dense forested Payette National Forest. A mature beautiful forest of Ponderosa Pine, Tamarack Pine, Douglas Fir, White Pine and Yellow Pine trees. There are frequent encounters with deer, fox and other forest going animals which are very common sites along the trails throughout the campground.
Camp Morrison offers twenty-eight camp sites for use by individual troops as they set up camp and participate in the great programs offered. Each site has running water for sinks, campfire pits. camp tables and clean sanitary latrine facilities. Showers with hot water are located at two different locations near the campsites for use of all campers.
Camp Dinning Hall
All meals at Camp Morrison are prepared by the excellent staff of trained cooks, and provide a menu of well balanced, nutritious, great tasting food served in the camp Dining Hall. This allows Scouts to avoid the time consuming process of preparing their own food. The tasty large portions receive high marks from the campers each year.
Camp Highlights
In addition to Scout rank advancement activities, there are more than 30 merit badges offered at Camp Morrison including: astronomy, basketry, bird study, camping, climbing, cooking, emergency preparedness, environmental science, first-aid, fish and wildlife, pioneering, soil and water conservation, wilderness survival, and woodcarving. The waterfront offers opportunities for small boat sailing, snorkeling, canoeing, fishing and swimming. A first class, small caliber shooting range is available for use of all campers. A very popular activity is the shotgun shooting. Shooting classes and recreational trap shoots are available in a safe and well supervised facility. Gun skills are learned in a safe and well supervised facility allowing campers to shoot clay targets and practice their shooting skills. The archery range is available for obtaining the archery merit badge and recreational archery shooting for all campers.
For More Information Contact the Mountain West Council at