Camp Bradley Home Page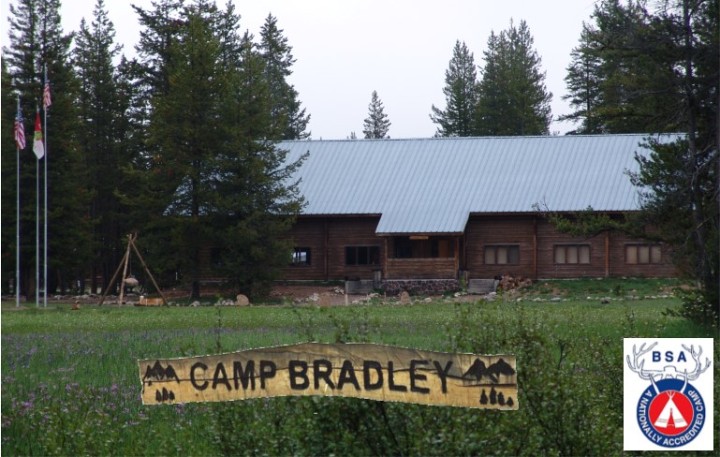 Camp Bradley
Stanley, Idaho
Mountain West Council, BSA
UPDATE *** SUMMER CAMPS OF THE MOUNTAIN WEST COUNCIL
Due to COVID-19, we are disappointed to inform you of the 2020 suspension of Camp Morrison, Camp Bradley, the Salmon River High Adventure Base, Webelos Woods, Cub Resident Camp, Day Camps and other activities and programs scheduled for units that are scheduled on camp properties of the Mountain West Council. This unanimous decision was made on May 20 by our Council's Executive Committee after a very through discussion.
We are actively reviewing Idaho's 4 Step Program to systematically re-open the state that was announced by Governor Brad Little on April 23.
Adjustments, if needed, well be announced soon.
To assist you in registering for Merit Badges on-line, we have a chart of the Merit Badge Schedule, A Merit Badge Worksheet for each Scout. These are to help you organize and coordinate only! On-line registration for Merit Badges is required. We are also including step by step instructions on how to use the online registration system to help guide you through the registration process.
CLICK HERE FOR A CAMP MERIT BADGE SCHEDULE
CLICK HERE FOR A CAMP MERIT BADGE WORKSHEET
LEARN HOW TO USE TENTAROO TO REGISTER FOR CAMP-
Watch the Getting Started in Tentaroo video for guidance on setting up an account, logging in, and navigating the Tentaroo system.
Helpful Time Stamps:
Week 2 Schedule
Stanley, Idaho
Mountain West Council, BSA